AssessBook for AssessTech Training
The AssessTech Training Team has their own AssessBook instance, where online training courses are offered to candidates, who are working towards qualifications with AssessTech. In this case the service is configured with AssessTech branding: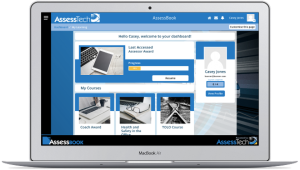 AssessBook for Customers
AssessBook is also available as a branded service for our customers. In this case, the service is branded with customer colours and logos and menus are tailored to reflect our customers' company standards and terminology. A language file is included that can be tailored to support either local terminology or different languages.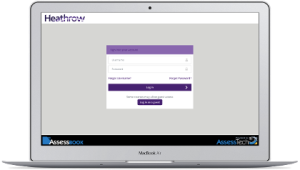 eCourse Design and Development
AssessTech also offers an eCourse design and development service. We have lots of standard railway industry content that can be provided directly or tailored to your needs, which includes the following:
Accident and Investigation Training
Fire Warden
Personal Track Safety
Security
Train Operating Liaison Officer
We can also source non-industry specific training courses, such as:
Communication Skills
Conflict Awareness
Fist Aid
Health and Safety in the Office/Workplace
Microsoft Office Courses (Word, Excel, Powerpoint and Outlook)
Report Writing Skills



Reports and Dashboards
All systems include the ability to make highly customised and bespoke reports and dashboards. These will mostly need to be configured by the AssessTech Customer Operations Team, but this is part of the service – there are no additional fees and there is no limit to the number you can have.
Reports and dashboards can be enabled for groups of users based on the nature of their account and according to security permissions or they can be enabled for specific users.
Dashboards contain widgets that can show any data that the viewing user is allowed to see. These widgets can be in any format – tables, charts, graphs, etc. All of these are downloadable in a number of formats (Excel, CSV, PDF, etc.) – the appropriate format depends on the nature of the widget, of course.
Reports can also contain any data that a user is allowed to see and can be in a range of formats, although the most common reports are tabular and delivered in PDF and Excel formats.